Petit Train de Vaison La Romaine
Discover the circuit
Discover 2000 years of history aboard the Vaison-la-Romaine Tourist Train
Take a ride through the heart of Vaison, where you will discover: the Gallo-Roman city covering 14 hectares, the medieval city, its castle, the cloister, the Roman bridge, a Provencal village…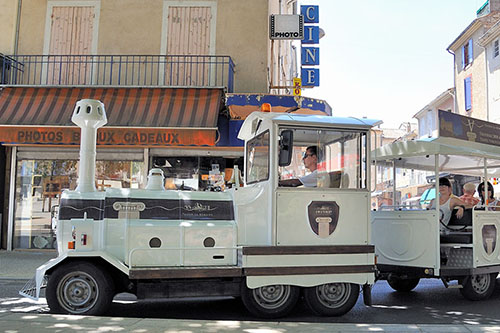 The Place Montfort, the heart of contemporary Vaison, is at the crossroads of several centuries of history between the ancient sites and the upper town.
The generations of town planners who succeeded one another in Vaison have left us this precious heritage.
A privileged place for commercial exchanges since 1817, Place Montfort was formerly known as the marketplace.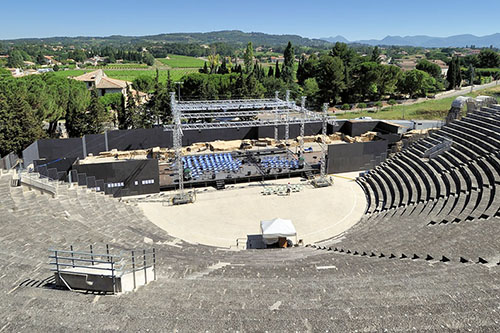 02
The Roman remains
of the site of Puymin
The site of Puymin, named after the hill of Puymin, is a rich archaeological site.
The house at the Apollo Laurée: discover the organization of a Domus, a private house. • The Pergola house occupies a surface of 3000m ².
• The sanctuary with porticoes was undoubtedly a public garden with a pool and a large central construction. An altar was used for the worship of the gods.
• The Roman Theater of the 1st century AD was dug in the hill..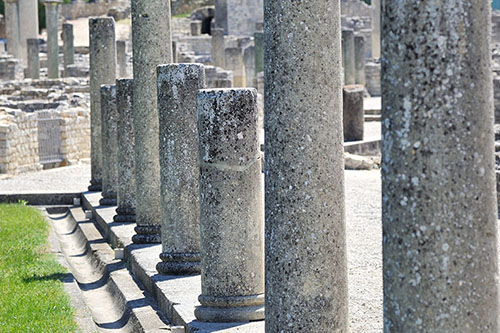 03
The Roman remains
of the Site de la Villasse
The archaeological site of the Villasse covers a rich and very active district of the city with its streets, its shops and its thermal complex.
Behind this noisy urban scene, large mansions built around their inner courtyards testify to a quality of life and a luxury reserved for the well-to-do populations.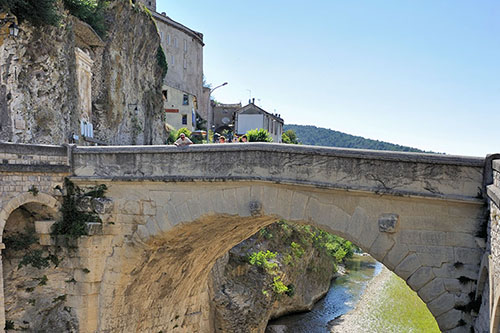 The Gallo-Roman bridge, classified as a "Historic Monument" since 1840, is the true link between the modern lower town and the medieval city; it is one of the major monuments of the city. Built in the 1st century AD. It is anchored in the rock at the level of a narrowing of the river Ouvèze.
Infamously popular for having withstood the large wave caused by the 2002 floods, thus avoiding part of the city to be submerged.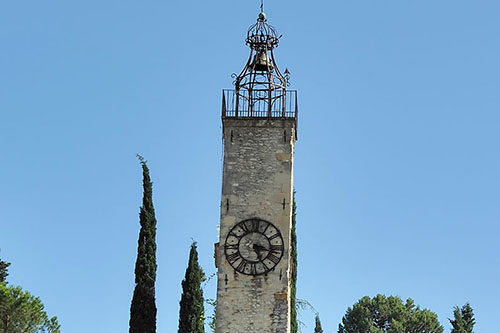 In the Upper Town, going up from the Place du Poids, its base is from the 14th century, the bell tower from the 18th century.
A community council room was installed on the first floor from 1523 to 1727.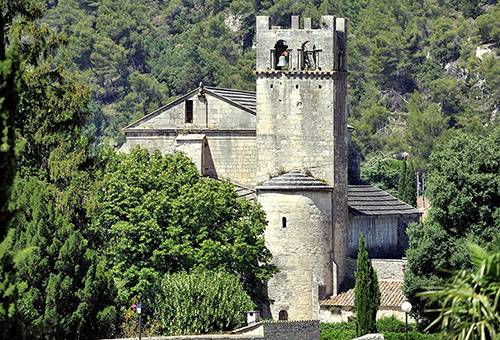 The cloister which rises to the north of the cathedral sheltered the canons.
Its construction can be estimated around the years 1150 to 1160. It is built against the northern flank of the church.
The plan of the edifice, four galleries enclosing a courtyard, recalls the function of the peristyle of the Roman house: to illuminate, ventilate and connect rooms.
Thus the cloister served the cathedral and the rooms reserved for the canons.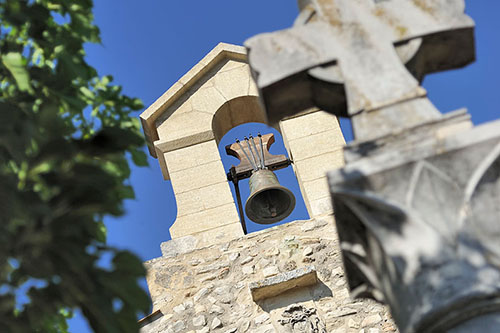 The Saint-Quenin chapel stands a few hundred meters from the Vaison Cathedral.
It was built in the second half of the 12th century, but the nave is from the 17th century.
The site, occupied during the Roman period by a necropolis as evidenced by numerous relics, remained a burial ground for a long time.